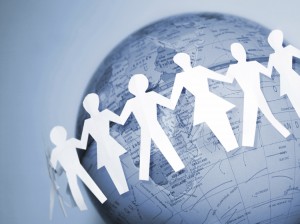 "I shouldn't complain and vent so much to my team about our projects," admitted Annette (not her real name) during one of our coaching sessions. As the country director of an international development contractor, she is the only person at her level in country, and the only expat in the office.
"I know complaining is not very professional, and probably affects how our staff see our partners and bosses in Headquarters – and how they see me. I try to keep it to myself, but sometimes I can't help it – I have no one else to talk to."
Annette was feeling isolated – with no peers within her organization at close reach, and the only foreigner in the office. She hired me a few years ago to coach her through this and other career issues. At the time, she could have benefited from a peer coach – someone who understands her context as a development professional, who will listen to her without judgment, provide some encouragement, ask good questions to spark Annette's thinking, and help her come up with action steps to move her forward rather than simply spinning her wheels.
Sounds pretty good, huh? I think we can all benefit from a peer coach, especially people working in aid and international development. I wrote about it here. Then some creative thinkers from whydev.org read that blog post, and came up with the idea to launch a program to match up aid workers (or development types) with peer coaches – a network of support around the world. I take my hat off to people who dream up great ideas, and then make them happen. So far, more than 330 people have responded to a survey indicating that they're interested in participating in the program.
The pilot peer coaching program will be free of charge to participants, but that doesn't mean it will be free to operate. (Hmm, kind of like many development projects…) So the whydev crew came up with yet another creative solution: launch a crowdfunding campaign via StartSomeGood.org. To date, 68 backers have pledged $4,475 towards a goal of $10,000.
You Can Help Build the Network of Support
I have pledged to donate, because I think that peer coaching can help make aid workers more effective in the important work that they do. I am also supporting the initiative through "sweat equity" (okay, more like "cerebral equity") by serving as the program's technical advisor, on a pro bono basis.
There are 4 days left in this campaign. If you like the idea of aid and international development professionals getting connected across a global network of support, please click here to donate. They still need $5,000, but any amount – even $10 – can help. The campaign closes on Monday, June 18.
Sign Up for No-Cost Peer Coaching
And if you are interested in signing up to be matched with a peer coach of a similar level of work experience as you, click here to take the survey. Once you do, you'll automatically be notified about updates, progress, and the eventual launch of the pilot program. This pilot program is free.
In the meantime, it's probably a good idea to avoid venting your job-related frustrations to your staff at work. But you knew that already.
To learn more about how the program would work, check out this 2-minute animation: