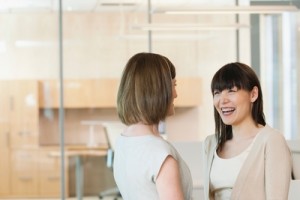 When I was growing up in Mexico, February 14 was celebrated as much as a day focused on friendship (Día de la Amistad) as it was about romantic love. I think this is fitting. Friends play such a critical role in our lives – and not just in our personal lives, but at work as well.
Do You Have a Best Friend at Work?
It turns out that people who have a "best friend" at work are SEVEN TIMES more likely to be engaged at work. Gallup has found this by asking 15 million people all over the world, "Do you have a best friend at work?" Those who answered in the affirmative produced higher quality work, engaged customers more effectively, and reported higher levels of wellbeing.
In contrast, people who did not have a best friend in the workplace have just a 1 in 12 chance of being engaged. And employees who are lonely are less productive than those who are not.
If you don't have a "best friend" at work, you are in good company – 70% of Gallup's survey respondents didn't, either. While Gallup doesn't publish numbers specific to the aid and international development arena (they really should get on that, don't you think?), I would bet that the numbers are similar to their overall findings, or maybe even more extreme. Development workers may experience isolation in larger doses than those in other fields (as I've written about here). If you're the only expat in your field office, or you're the manager of a team and there aren't a lot of other managers around, or you're a consultant who flies in and out of the project site – there are many barriers to cultivating a vital relationship like a "best friend."
3 Ways to Increase Your Workplace Wellbeing
Even if we can't have a "best friend" at work, we can still cultivate workplace relationships that are professionally productive AND personally and emotionally sustaining. Researchers have found that the single best predictor of higher wellbeing and engagement at work is not what people are doing, but who they are with. To the extent we can enjoy our colleagues' company more, the more we can enjoy our work – and become more productive in the process.
Here are 3 ways to increase your workplace wellbeing by connecting with your colleagues:
Allot extra time for informal discussions with your co-workers. This will come naturally to those whose dominant communication style is Considerate, but those who tend toward the Direct or Systematic style may need a reminder. Every conversation doesn't have to be all about business. In fact, Gallup points out that "idle chit-chat might actually be valuable to productivity…researchers found that even small increases in social cohesiveness lead to large gains in production."
Get to know your colleagues on a personal level. Take an interest in them. Ask them about themselves. You could try a few questions from this Psychology Today article.
Use technology to keep you connected, especially if the colleagues with whom you "click" the most are not actually located in your office (or country). Contact at a distance also counts in terms of boosting your wellbeing on the job. Spend some extra time chit-chatting about personal stuff at the end of that next project planning Skype call.
Don't Have a Confidant on the Job? Try a Peer Coach
If there is no one at work in whom you can confide, let off steam with, or talk openly with about workplace woes, a peer coach may be helpful. (I've written more about that here.) I'm helping to launch a pilot program to match development workers with peer coaches. If you're interested in having a peer coach, please fill out this short survey here.
So on this Valentine's Day, look beyond the chocolates, flowers, and hearts normally associated with the holiday. Remember that friendship and personal connections with the people you work with can be good for your wellbeing and your performance on the job.
Do you have a best friend — or a close friend — at work? I'd love to hear your thoughts in the comments section.
If you liked this blog post, you'll love my free email newsletter. Click here to sign up.