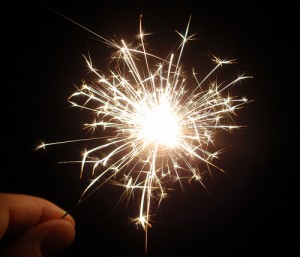 It's hard to believe that 2011 is wrapping up.  One of my favorite year-end traditions is looking back on the year that has passed, noting the highlights, the low points, and (hopefully) the personal and professional growth.
Recently I asked blog readers, coaching clients, friends, and acquaintances working in international development to share their work-related highlight of 2011.  Their responses demonstrate that highlights can come in many forms – from program successes to leadership lessons to quitting a job.  I found their highlights uplifting and inspiring, and I hope you will, too.
Highlights at the Intersection of "Work" and "Life"
Our lives are about more than work. And our work is about more than work, too.  Some highlights of this year were at the intersection of "work" and "life."
Chris Herink, National Director, World Vision Myanmar, shared, "One highlight from the past year was taking my wife and sons on a field visit.  The occasion was the opening of a new primary school, donated by a German company.  I have opened a number of schools, health clinics, latrines, water tanks, and other projects in my career, but this was the first time that my whole family was together for such an event.  While it was gratifying to see children learning in a better environment (the previous school was crumbling mess built 70 years ago), it was also fulfilling to see my children with the local children.  Not only did this cultivate a sense of gratitude, but it also helped me answer the question, "What does Daddy do all day?"  Saying "local capacity building" does not really mean much to a 6-year-old.  When we talk about a work/life balance, the implicit assumption is that clear boundaries can and should be drawn between the two.  I suppose this experience was a highlight, because "work" and "life" intersected in a fun and meaningful way."
"My highlight was running my first marathon race!" shared Angus Barnes, Client Manager and Practice Leader, International Development Assistance, Sinclair Knight Merz.  "You might say that's not a 'professional life' highlight (no, I didn't win any prize or get paid appearance money), but it's important to have those non-professional goals outside your work life (e.g., fitness, family, friends) that can result in increased productivity at work.  So spending hours on the road training through winter actually made me more focused, relaxed and confident re the work situation… now for my next adventure!"
Leadership Successes
Some highlights were related to breakthroughs in leading and managing others.
Cindy Malvicini, Senior Water Resources Specialist at the Asian Development Bank, said that one of her highlights was a recent ADB mission.  "I was leading a team of 5, none of whom had previously worked together, and the team gelled well and had fun together despite a hectic field trip schedule in rather sub-optimal conditions (in India). I have noted in 2011 that I often take my job too seriously, and it was a gift to just laugh and be myself even as the team leader. I learned more about how to manage in a more personal yet still professional way – one of the strengths of women's leadership that we often stifle!"
A manager at an international NGO in Cambodia, who asked not to be named, shared, "My top highlight from this year was indeed more meaningful than monumental."  She explained that at the beginning of 2011, she took over supervision of one program team, headed by "an older, reticent Cambodian colleague – one of the smartest people I've ever worked with, but who had been trained by years of civil unrest and hardship to keep information and ideas close to the vest."  Throughout the past year, they slowly built rapport and trust.  The older gentleman began stopping by her office on his own initiative to share updates, or to proactively talk things through with her.
"Last week, we completed his performance review, and this man of few words wrote in his review that he wanted to thank his supervisor for her valuable support during normal and critical times, and that without her support, he couldn't do his job successfully.  Supervising people is an immense challenge, and I think all self-aware supervisors struggle with whether they are hitting the right balance of motivating their teams, pushing them when needed, and giving them space to do and learn for themselves.   The eternal question: when do you jump in and do, when do you demonstrate, when do you manage and from what distance, and when do you let things play out so the team can learn from mistakes.  I've been reflecting a lot on this challenge this year, so to receive that positive feedback from an unexpected place was a huge highlight of my year."
Making an Impact
People who work in international development place a huge value on making an impact.  It's no wonder that some of this year's highlights were about program successes.
"A highlight of my professional year was to see the Helping Babies Breathe project become such a model for effective partnerships," says Bonnie Koenig of Going International.  "I started working on strategies for scaling up this project several years ago when there was just one organization developing a global curriculum. It now has over 15 partners (academic, corporate, governmental and NGOs) working together in over 30 countries.  There have been significant efforts made to work in true partnerships across many challenging boundaries (real and artificial) and this has been rewarding to see."
"The highlight of my year was exceeding 9 of our 10 indicator targets for the Philippine Sanitation Alliance project (we met the 10th indicator target)," said Lisa Kircher Lumbao, Chief of Party for the USAID-funded project.  "Several of the targets were quite high and we worked very hard to meet them.  After eight years working in the sanitation sector I feel that we accomplished a great deal with a very small amount of money and few staff. It's sad to have it end, and to close our project office, but new opportunities and challenges await!"
Weh Yeoh, Rehabilitation Advisor with Handicap International, shared, "All year I had been training local partner staff on the social model of disability, which focuses on the barriers that society creates rather than impairments on the body of the individual. Seeing disability in this way is a fundamental step towards acknowledging a community's collective responsibility to lower these barriers, and empowering people with disabilities to participate more fully. Usually, awareness of this concept is very low in partner staff, but there was a lightbulb moment when I asked a group on my last week in China what they thought disability was.  The answer, from a 60+ year old man, came back absolutely spot on: "Disability is the barriers that are created by society, that stop some people from doing what the rest of us can do." I had to hug him, I was so impressed with his answer!"
Professional Beginnings…and Endings
Sometimes the high point of the year is related to starting a new chapter.  Since 2006 when he began teaching, Brendan Rigby has been working toward a career in education in the development sector.  Earlier this year, he started a job as an education officer for UNICEF Ghana.  "I am 'on the ground' and 'in the field', in northern Ghana, working very closely with a number of NGOs and government partners to study and support the improvement of basic education. It is fascinating to see aid and development in motion, from a donor to a recipient perspective. I know this is an amazing professional opportunity, for which I am very privileged."
The highlight of the year may also be an ending.  "The career highlight of 2011 for me was quitting my jobs," shares Lara Quarterman, consultant.  "Yes, I had two and I left them both at the same time.  I had been at both for three years and had learned an incredible amount through challenging projects and supportive supervisors.  I knew I could continue on the same path and experience more success, including promotions and raises, but I wasn't sure it was the path I wanted to be on.  I knew I needed a change, but I wasn't sure what it was.  I booked a flight for a two-week solo vacation and came back with the answer.  Or at least closer to the answer: I needed to initiate the change if it was to come.  I left my jobs in October and although I am not quite sure what the next step will be, I am enjoying the downtime to reflect and make a conscious choice on how I want to move forward."
Since I am fascinated by the process by which people make career decisions, I asked Lara to share more about how she came to this decision.  "I think the biggest factor was that I was physically removed from 'home' and had the freedom to think bigger than when you are right in the middle of something.  I find just getting out of the city I am living in helps to do that too.  I think I knew the answer deep down and I just needed the space to think it through and find it."
She Stole Mine!
Disclaimer: Before I share the next highlight, I solemnly swear that I did not, in any way, pressure, cajole, or bribe the following individual to issue the statement below.
I received the following email from one of my coaching clients, an international development consultant who requested to withhold her name: "My professional highlight of the year was joining the "What's Next?" coaching group!  Seriously, it was wonderful to find a forum to share experiences with no fear of judgment or criticism. It really made a big difference to me, and gave me confidence about being myself at all times, even if and when the going gets tough."
What can I say?!  She stole mine!  The highlight of my year, professionally speaking, was leading the "What's Next?" coaching group.  I had a blast facilitating the group sessions and seeing people gain greater clarity, confidence, and excitement about their careers, their lives, and their future.  I can't wait to launch the next "What's Next?" group in 2012.
What about you?  I hope you'll share the career highlight of your year in the Comments section below. And here is wishing all of you a 2012 full of wonderful highlights, at work and in life.
 Photo by Mykl Roventine