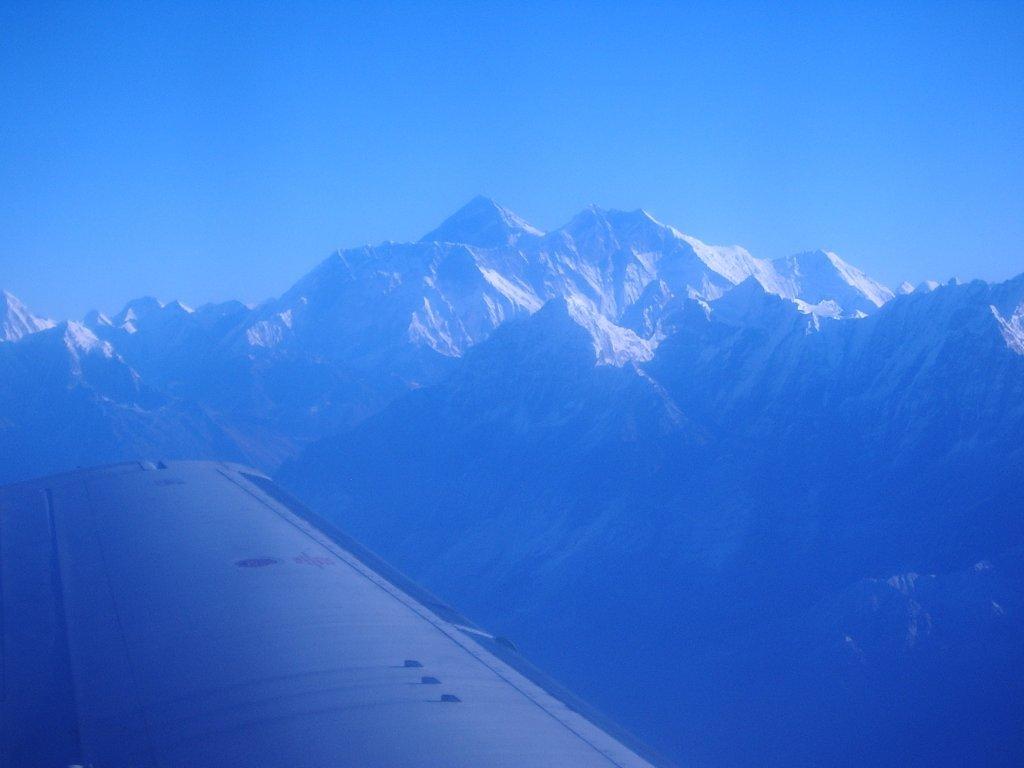 "Do you have the money?" asked the young man in the jeans and a leather jacket as we stood in the chilly parking lot.
I was a little surprised that my Nepali guide wanted the money now – I'm not used to purchasing plane tickets in the parking lot of the airport.  But I reached into my pocket and pulled out a wad of bills.  I counted out $165, as we had agreed, and gave them to him.
He handed the bills to his friend, another 30-something Nepali man, who took them, and reached into his back pocket to pull out a stack of boarding passes for Yeti Airlines.  He handed me one, and escorted me across the parking lot towards Kathmandu Domestic Airport.  There was a long line of tourists dressed for trekking along with locals laden down with luggage, but he ignored it, and led me straight to the door.  He motioned to the guard at the entrance, who let me in without a question.
And so began my flight on the Everest Express.
I was in Kathmandu, Nepal to facilitate a workshop for 24 staff from 15 country offices of The Asia Foundation.  I had arrived a couple of days before the event, to prepare for the workshop, and to squeeze in some sight-seeing.  I had heard about a "mountain flight," where a plane takes tourists on a one-hour flight for a birds-eye view of the Himalayas.  Although it sounded a bit sketchy – How big is this airplane?  What's the safety record of the airline?  Is it safe to fly so close to the mountains? – I had found some encouraging descriptions on the Lonely Planet message board, so I'd decided to go for it.
There were about 20 people on my flight: one tour group of talkative middle-aged Americans, one tour group of slightly less chatty Germans, a Canadian woman in her 20s, and me.  I'm not sure what the Germans were talking about, since I don't speak German – but "American" I do know, and I indulged in some discreet eavesdropping.  Technically, it wasn't eavesdropping, and I didn't have to be discreet, since the American tourists spoke in loud and enthusiastic tones.
From the time we boarded the bus to take us to our little jet (which wasn't too tiny and looked reassuringly safe), all through the flight itself, and on the bus on the way back, a petite tourist from Seattle named Barbara (names changed to protect the innocent) couldn't stop talking about how to take the perfect picture of Mt. Everest. She went on and on (and on) about her camera lenses, the lighting, what ISO speed she planned to use.  In fact, she seemed more intent on taking great pictures than on enjoying the breathtaking view.
I had no such delusions of photographic grandeur.
Although I've taken a couple of basic photography seminars, I am not an accomplished photographer.  Besides, I didn't even have a decent camera with me – my husband convinced me that borrowing his digital SLR would just weigh me down on a business trip.  Instead, I had brought our small, basic point-and-shoot digital camera that happens to be more than 6 years old (a lifetime in the world of electronic advances).
Having limited skills and obsolete technology actually turned out to be a blessing. It enabled me to decide right off the bat that I was on the Everest Express for the experience rather than the souvenirs.
On the plane, I pressed my forehead up against my window and drank in the beauty of the snow-capped mountains, including 4 of the world's 10 highest peaks. It was magical to see the spectacular Himalayas up close.
There was something spiritual, even, about the experience.
It sparked in me a deep sense of awe, joy bordering on giddiness, and gratefulness.
Of course, I did take a few photos with my humble little camera.  I even managed to shoot some grainy, amateurish video when it was my turn to visit the cockpit for a wide-angle view of the mountains.  During my time in the cockpit, the plane was just passing Mt. Everest.  Stunning.
I know that I can find better shots of Mt. Everest on Google, or probably on Barbara's Facebook page.  To me, my blurry little pictures are special because they represent a memento of a once-in-a-lifetime experience.  I'm glad now that I was focused on the experience, not struggling with how to focus my camera.
And it also got me thinking, what about the journey of life?  What kind of traveler am I?
Am I focused on the pictures – things I can take with me, collect, and display to impress others with?
Or am I fully present – enjoying the experience, noticing how it makes me feel, letting it change me?
How about you?