Happy International Day of Happiness!
Today (Marc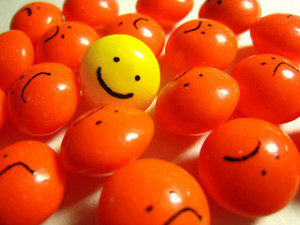 h 20, 2013) is the first-ever International Day of Happiness, as proclaimed by the United Nations last year, "recognizing the relevance of happiness and well-being as universal goals and aspirations in the lives of human beings around the world."
It makes me happy that there is now such a thing as International Day of Happiness. Not only do I personally want to be happy (who doesn't?), I find that my work as a career coach and leadership coach is about helping people be happier in their work. Whether it's helping people get clear on what's next in their careers/lives, or coaching someone to be more effective in their current job, happiness at work is a core consideration and driver.
And being happy at work is not only about our individual happiness. Happiness can have a ripple effect. Did you know that happy leaders are more likely to lead teams of employees who are happy? Happiness is not just about feeling good — it can make a bottom-line difference in the performance of employees and organizations. Researchers in the burgeoning field of positive psychology (studying what makes people flourish and thrive as opposed to what makes them unwell) have found that happy workers are more productive, get higher performance ratings, receive higher pay, and perform better in leadership positions. Their job security is higher, they take fewer sick days, and are less likely to burn out.
If your work in international development and aid is all about making an impact, how can you afford not to think about happiness at work — for you, for your team, for your staff (if you're a manager), for your organization?
In honor of the first International Day of Happiness, I'm launching an occasional blog series called Happy at Work. I'll write about what contributes to our happiness at work, and what detracts from it. I'll share what I'm reading about research findings on happiness, and how we can adapt these lessons in practical ways. I'll write about engagement, positive relationships, and meaning. And of course, I look forward to hearing from you on these topics. Sign up here for my email newsletter, so you'll be sure not to miss any of the Happy at Work installments.
To kick off the new series, I'd like to share one of my all-time favorite TEDx talks, "The Happy Secret to Better Work" by Shawn Achor, author of the excellent book, "The Happiness Advantage." It's a great introduction to the idea of how happiness impacts our work, and research-based findings on why our old formula about happiness and success is wrong. The talk is humorous, engaging, informative, and ultimately, very practical — totally worth your 12 minutes of time!
Happy watching!
 Photo by Jessica Tam