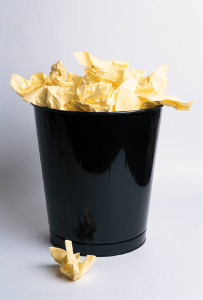 Did you start off 2013 with some New Year's resolutions? And how are those working out for you?
If your resolutions have crashed and burned, fizzled out, or never got off the ground, you are not alone. Research shows that 88% of New Year's resolutions fail.
What is wrong with New Year's resolutions? Here are 6 reasons:
They're too numerous. New Year's resolutions tend to be a laundry list of things we'd love to do, have, or be in the new year. There are just too many of them. The length of the list overwhelms us, dilutes our focus, and keeps us from taking meaningful action.
They're wishes, not plans. As the saying goes, "A goal without a plan is just a wish." Without an action plan that identifies specific steps, takes into account potential obstacles (both internal and external), and brings in a measure of accountability, a resolution is merely a wish.
They're based on what is wrong rather than what is right. Often when we formulate New Year's resolutions, we are thinking about what is lacking in our lives. So rather than basing our resolutions on strengths, we base them on gaps, problems, and the assumption that there is something about us that needs to be fixed. Ugh – no wonder we are not very excited about actually doing the work it takes to fulfill our resolutions.
They're too big. Sure, it's great to dream big. However, if your resolution is to run a marathon this year, but you are currently a couch potato, you'll need some interim resolutions and goals to get you to your ultimate destination. If our resolutions are dauntingly huge, we get overwhelmed, don't know where to start, and end up not doing anything at all.
They earn us admiration, which hijacks us into inaction. As I've written about here, announcing our ambitious resolutions to the world may get us high praise from our circle of friends — which paradoxically keeps us from taking action. Accountability, rather than accolades, will help us reach our goals.
They're made in haste. For most people, New Year's is not exactly a contemplative time. It arrives on the heels of a frantic, jam-packed December, when we haven't had time to process the year that has passed, much less reflect on what we really want in the new year. Rather than start off the new year with no resolutions or plans we hastily come up with a laundry list of resolutions that is not grounded in reflection and clarity – and that deep down, we're really not all that serious about.
No wonder we can't keep our New year's resolutions.
I propose a new way of approaching the new year. A kinder, gentler way, if you will. And a much more effective one. And no, it's not too late to change course and get yourself on track for a great new year.
You can do it in three steps: Take Stock, Get Clear, and Act. These three steps are simple yet powerful. I have seen them bring about amazing results. They are the same three steps that I guide my clients through in the "What's Next?" coaching program (the new group is forming now and will start in March 2013).
In a nutshell:
Take Stock: Look back on 2012 and identify the high points and the low points. When did you feel most happy and fulfilled?  In what moments were you aligned with your core values and playing to your strengths? On the flip side, when were you the most miserable, stressed, or unmotivated?
Get Clear: Sift through the information you gleaned from the Take Stock exercise to identify what you really want in 2013.
Act: Choose one goal. Design some do-able actions to get you closer to it. Be sure to break down big projects into smaller, discrete tasks that you can get started on right away. Build in accountability.
I've designed a self-guided worksheet, Three Steps to a Great New Year, to help you work through this process. It's a PDF with step-by-step instructions, prompting questions, and space for reflection. Everyone on the Development Crossroads newsletter list will receive it automatically. If you're not on that list, I'd be happy to send the worksheet to you, too – simply leave your email address in the form below. I'll also add you to newsletter list, where you can receive goodies like this worksheet, as I develop them, in your inbox.