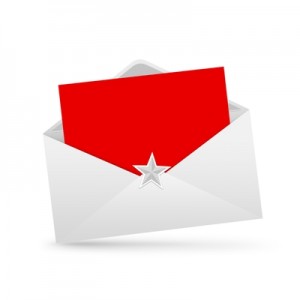 You've been crazy busy this year with challenging work projects, plenty of travel, and family obligations. You've barely kept your head above water, so you've probably had to say No to certain non-urgent tasks– like keeping in touch with your professional contacts. You know you "should" do this, that it's good for your career and that you never know when you'll need to call on your network for help. You feel a bit guilty about losing touch with former colleagues, old bosses, and previous mentors, which makes you procrastinate even more about contacting them.
Well, you're in luck: the holidays, or the end of the year, give us all a free pass to get back in touch, guilt-free, and no questions asked. It's customary for many people to send holiday greetings or New Year's wishes with a brief update. I urge my coaching clients to take advantage of this holiday tradition. If there is someone whom you'd feel a bit sheepish contacting otherwise ("I know you haven't heard from me in six years, but…") send them a holiday card or an email.
Make sure your greeting is not generic (I'm always disappointed when a card simply says, "Happy holidays" with a signature and no update or note). Instead, include a paragraph or two about what you are up to (professionally and/or personally, depending on your relationship), share what you are excited about for 2013, and inquire about their latest news.
For those people who are especially important to you and your career, your holiday greeting might even suggest meeting up for a coffee (or having a Skype video chat if they live in another country), in the new year.
And once you're back on their radar, be sure to keep up the contact. Make a note in your calendar to be in touch about once every 3 months – not with everyone, but with your key contacts.
I am not suggesting that you take on a new, huge and overwhelming task, like writing an elaborate holiday update and mailing hard copies to 300 contacts. If you had not planned to send out holiday greetings this year, simply identify 3 to 5 people whose support, mentorship, or tips you feel would be helpful to have in 2013, and reach out to them.
Keep in mind that if December is too jam-packed with end-of-year work responsibilities and holiday preparations / celebrations, a New Year's greeting in early January is perfectly acceptable.
There isn't much anymore that is free about the holidays, so I encourage you to take advantage of this free pass. Happy re-connecting, and happy holidays!